Animal Kingdom LO & Speed Scrap this week!
My latest LO is the intro page for Animal Kingdom, and it's another double dipping in challenges! Here's my entry for 8/26 Tuesday Template Challenge at scrapmatters.com & the latest DISboard challenge: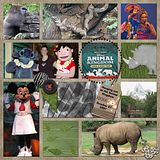 (Click to see full size LO. Click here for credits.)

In other news, this week's Speed Scrap will be Wednesday, Sept. 3 at 9pm EST! (8pm Central, 7pm Mountain, & 6pm Pacific.) Don't miss it!!