What a bunch of characters!
After getting home from Disney, one day, I decided to figure out how many unique characters I have met on my 5 trips the last 3 years. Turns out, I've met 88 unique characters, and 180 in total (I've met 36 characters more than once.) I think that's pretty good, right? Now of course my goal is 100 & I'm kicking myself at missing some characters that are no longer out that were available on earlier trips. I met 16 new-to-me characters on this trip.

Just thought if anyone cared enough to see how many characters I've met, lol, they probably would want to know who I've met! I also included how many times I met each character, and if they were in different outfits (Minnie wins with most different outfits: 7. That makes sense, though, she's such a girl! ;)) The list is pretty much grouped by movie (I even figured out the number of characters I met at each park...clearly I was pretty bored this day!) This is only characters I've met, it doesn't include characters I've seen in parades & shows, or those I just missed meeting. I would need to get a LOT more bored to include all of them. ;)

Mickey (10 – normal, sorcerer, chef, AK, halloween, AK christmas)
Minnie (11 – normal, chef, princess, AK, halloween, Christmas party, AK christmas)
Pluto (5 – normal, chef)
Goofy (8 – normal, chef, frontierland, santa)
Donald Duck (6 – normal, chef, AK, frontierland, AK christmas)
Daisy Duck (3)
Scrooge McDuck
Chip (2 – normal, AK christmas)
Dale (2 – normal, AK christmas)
Pooh (5 – normal, halloween, AK christmas)
Eeyore (5 – normal, halloween, AK christmas)
Piglet (3)
Tigger (4 – normal, AK christmas)
Snow White (5)
Prince (Snow White)
Evil Queen (Snow Queen) (2)
Dopey (2)
Doc
Happy
Sleepy
Sneezy
Bashful
Grumpy
Aladdin (2 – normal, Prince Ali)
Jasmine (4)
Genie
Abu
Jafar
Cinderella (4)
Prince Charming (2)
Lady Tremaine
Anastasia
Drizella
Fairy Godmother
Belle (5 – yellow dress, blue reading dress, red Christmas dress)
Beast (2 – normal, christmas)
Aurora (5)
Malificent
Prince Phillip
Alice (4 – normal, coat)
Queen of Hearts (2)
White Rabbit
Tweedledum (2)
Tweedledee (2)
Mary Poppins (3)
Bert
Penguin
Peter Pan
Wendy (2)
Captain Hook
Mr Smee
Tinkerbell
Iridessa
Silvermist
Pocahontas (2)
John Smith
Meeko (2)
Mulan (2)
Mushu (2)
Ariel (2 – tail, dress)
Tiana
Prince Naveen
Buzz
Woody (2)
Jesse
Bullseye
Carl
Russel
Dug
Mr. Incredible
Mrs. Incredible
Frozone
Mike (2)
Sulley
Lightning McQueen
Mater
Pinocchio (2)
Jiminy Cricket
Lilo
Stitch
Timon
Rafiki
Thumper
Miss Bunny
Marie
Baloo
Terk
Cruella

Of course, after figuring this out, I had to do a layout about it! Click for credits.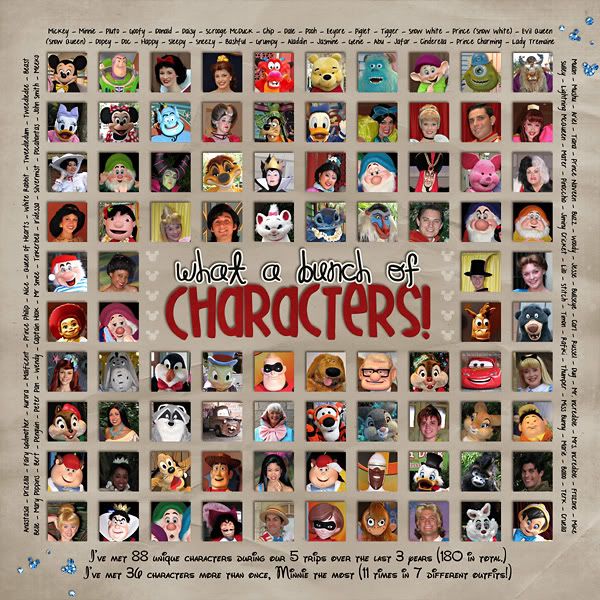 Labels: digi, disney, disney world